Directions to Salsa on the Square as well as helpful tips on where to park, when to get there and what to expect with bad weather.
Salsa on the Square takes place every Thursday, through September 28th from 7pm to 10pm at Cincinnati's Fountain Square located at the intersection of Fifth and Vine Streets in downtown Cincinnati.
The official address is:Fountain Square 520 Vine Street, Cincinnati, OH 45202.
Directions (care of  3CDC.com )
I-75 SOUTH
Take the Fifth Street exit (a left exit).
Proceed east on Fifth Street four blocks to Fifth and Vine.
I-71 SOUTH
Take the exit for Downtown/Riverfront/Third Street.
Bear right onto Third Street.
Turn right at Vine Street and proceed north two blocks to Fifth and Vine.
I-71/I-75 NORTH
Follow signs across the river.
Take the Fifth Street exit and proceed east four blocks to Fifth and Vine.
I-471
Over the "Big Mac/Yellow" bridge.
Take the Sixth Street exit (6B) toward Downtown.
From Sixth, turn left on Walnut Street.
Fountain Square is located one block south on Fifth between Walnut and Vine.
COLUMBIA PARKWAY (U.S. 50)
Westbound: Take the exit for Third Street/Downtown/Riverfront. Turn right onto Vine St. Proceed north two blocks to Fifth and Vine.
Eastbound: Take the Fifth Street exit. Go straight (east) on Fifth St four blocks to Fifth and Vine.
Parking
Most evenings the garage below Fountain Square is a great choice. Cost is usually $5, yet the rate can change if there is a special event in town (check out the Reds home game schedule). Parking on the street is also an option and the parking meters accept coins as well as credit cards. Additional parking can be found under Macy's and also open air lots.
When to get there?
Salsa on the Square kicks-off at 7pm. If you're looking for a seat or table, it's best to arrive close to 7pm.  Cincinnati is a very active city in the summer time with special events, festivals, baseball games and more which can affect parking availability and traffic. Here is a list of Reds baseball evening home games
Bad Weather? What to expect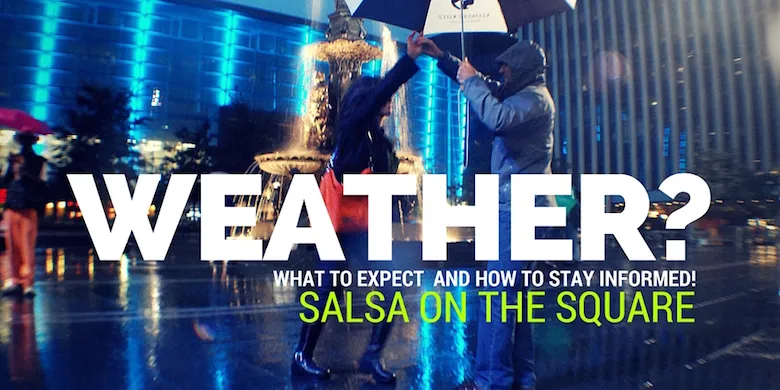 Bad Weather? What to expect.
Although Salsa on the Square has been quite lucky over the years to have very few cancelations, weather is a concern and out of our control. The event staff is constantly monitoring adverse weather and will always work hard to not cancel Salsa on the Square.  Simply sign up to our email list to be notified immediately of weather cancelations or changes. In addition, weather, please stay tuned to our Twitter feed, Facebook Page or right here on SalsaOnTheSquare.com for the latest news about delays or cancelations. A little rain never stopped us although safety first! See you on the dance floor –wet or not!